Lithuania and Latvia Conference Tour June 2010
From June 14th to June 25th I was lecturing in Lithuania and Latvia: The Triple Benefit Principle - Interaction of Life-Style, Climate Change and Health in a Globalized World. Proposals for a more Sustainable World.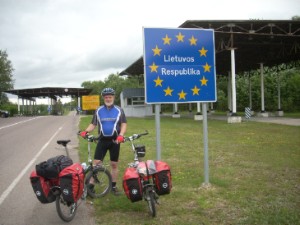 entering Lithuania on bicycle, June 13th, 2010
Free University of Lithuania LUNI
Alytus : Monday, June 14th 18:00 hours at Alytus Art-School
Kauas: Tuesday, June 15th tbc.
Vilnius: Thursday, June 17th at LUNI
Riga: Friday, June 18th, 15:00 hours, School of Economics, tbc.
Liepaja: Monday June 21st, Radi Vidi Pats
Workshops with MOBILITY, the Interactive Learning Game on Healthy and Climate-friendly Mobility will be held on demand.
For more information see www.luni.lt
2010 06 14-17 Dr. Klaus Renoldner. Sveikas ir darnus žmogaus judėjimas
Birželio 14-ąją traukiniu į Lietuvą atvyksta austrų gydytojas, ekologas ir mokslininkas dr. Klausas Renoldneris. Kartu su žmona jie atsiveža sulankstomus dviračius, kuriais keliaus po Lietuvą ir skaitys teorines bei praktines paskaitas įvairiuose miestuose:
• Birželio 14 d., pirmadienį, 18.00 val., Alytaus dailės mokykloje, S. Dariaus ir S. Girėno g. 25, Alytuje.
• Birželio 15 d., antradienį, 18.00 val., Audiovizualinių studijų centre, Daukšos g. 26-1, Kaune.
• Birželio 17 d., ketvirtadienį, 18.00 val., "KultFlux" platformoje, Neries krantinėje prie Mindaugo tilto, Vilniuje.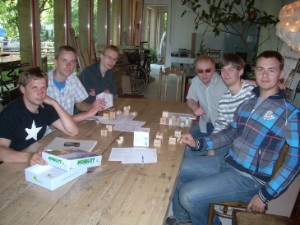 Mobility-Workshop in Riga, June 2010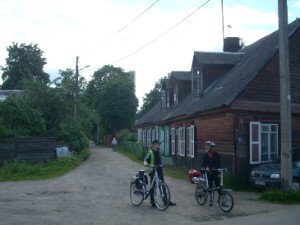 "Shanghai" in Vilnius